Natale a Gravedona ed Uniti
Art
Concerts
Teatro & Cinema
Village Festival
Visit Gravedona ed Uniti during the Christmas time! Several activities like parties, concerts, Nativity Scenes tour are organized there!
Programme:
Saturday, 22n  December: from 7.30pm Christmas dinner by North Lake Como
Monday, 24th December:
- From 4pm: in Serenella district arrival of Santa Claus by helicopter! (possibility of sightseeing tour by helicopter)
- From 4pm: Hot chocolate offered to children at the Center Bar
- From 5.30pm: Santa's helpers pick up the Christmas lights at the pier
- From 6.30pm: the illumination of the lake
Wednesday, 26th December: at 3.30pm at the Centro Polifunzionale Concert by Corpo Filarmonico Gravedonese, later tombola
Sunday, 30th December: at 9pm at the Gallio Palace the Great Year-end Concert (reservation required at Cartoleria Briciola)
Friday, 25th January: at 8.30 pm at the Centro Polifunzionale Closing of the Nativity Scenes tour with Theatre show by "Amici di Germasino"
Nativity Scenes tour map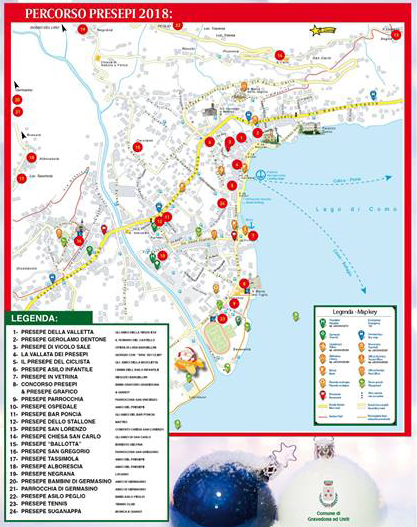 Info: Pro Loco Gravedona (+39 346 4078904)
Organized by Pro Loco Gravedona, Pro Loco Germasino and Pro Loco Consiglio di Rumo